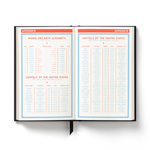 Hidden Agenda Undated Mini Planner
Regular Price

$15.00

Sale Price

$15.00

Regular Price

Unit Price

per
You could say that this cloth-bound mini daily planner by Brass Monkey is undated...but you'd really be selling it short. It's more like...'un-yeared.'
See, we did all of the hard work for you. We've already put in all of the dates, the fixed holidays, and tons of extra stuff like daily random holidays (it was Work Like A Dog Day when we wrote this, ironically), celebrity birthdays, and other bits of trivia.
With knowledge like this, you'll be the life of the party that you probably didn't want to go to in the first place. All you have to do is fill in the year, and what day of the week each day is on. Simple. So if you want, you can buy this planner today and still procrastinate actually using it until 2054...live your life.
Inspired by vintage library books. You remember what those are, right?
Features a cloth bound cover with embossed 'Hidden Agenda'artwork. 
Filled with 366 days (208 pages) of random holidays, trivia, and humor.
Measures 4.75" wide by 7.5" tall (and .6" thick, if you're curious)
Includes an attached bookmark to help you pick up where you left off.
The smaller counterpart of our full-sized planner.
Best Planner Ever
I fell in love with this planner the moment I opened it. This planner is so much fun and interactive. Honestly I didn't even know undated planners existed, but I love the idea of it. None of the months go to waste if you start in the middle of the year. I love the little fun facts on each day and the layout is so convenient. It's the perfect size to travel around with and it's not too bulky like other planners. The fonts are really relaxing to me, unlike the generic fonts in other planners. Love, love, love this planner!
Found this gem by chance in a Barnes and Noble and fell absolutely in love with the colors and layout of the whole thing right at first sight! I bought both the Hidden Agenda and The Perpetually Late Show planner because I couldn't risk not finding them again ^3^ tho thanks to some brief google searches I was able to find this website and now have it pinned on my desktop for future purchases :3